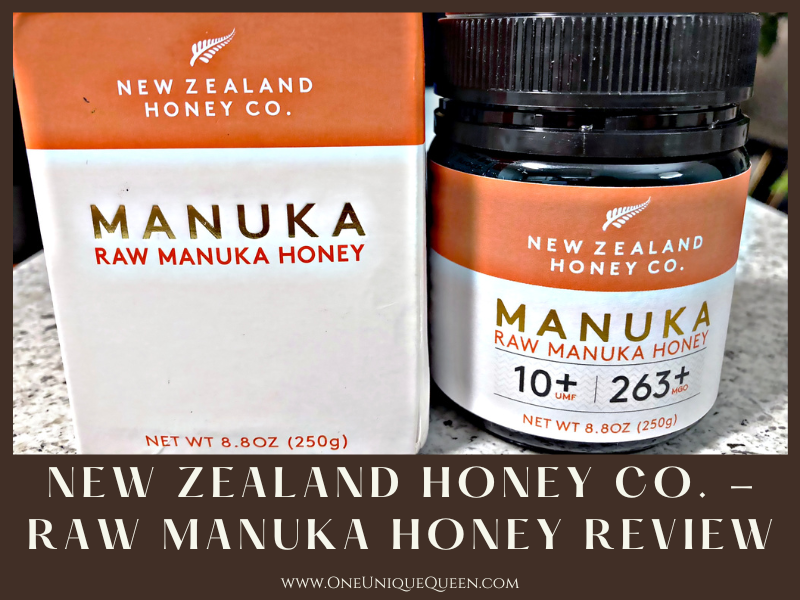 DISCLOSURE: I received one or more products for review purposes. I was under no obligation to write a positive review or host a giveaway in return for the free product. Any opinions express are completely 100% honest and my own based on my experience and are not influenced by any form of compensation. This post may contain affiliated links, if clicked I may receive compensation. Please read my full DISCLOSURE/DISCLAIMER POLICY for more information.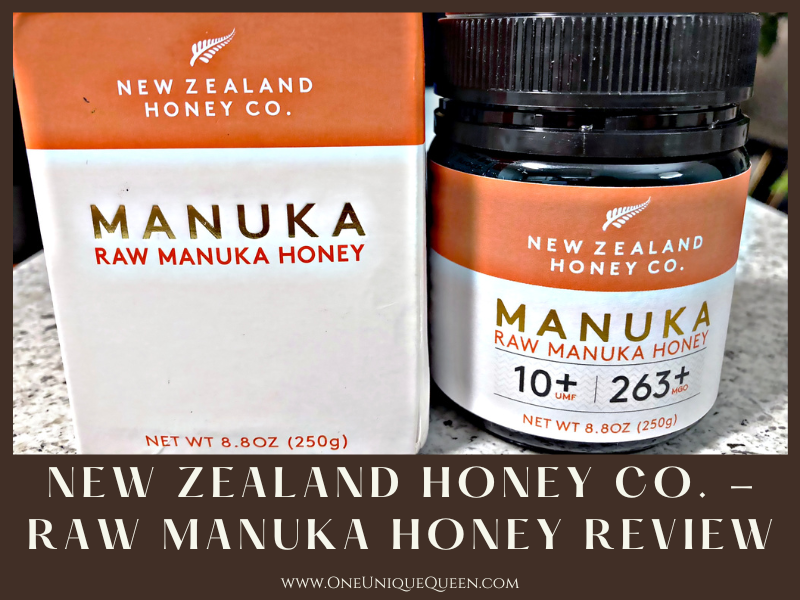 New Zealand Honey Co. – Raw Manuka Honey
Retail Price: Varies Based on UMF+ Factor
About New Zealand Honey Co. – Raw Manuka Honey:
As a wellness company, we harness the power of nature to create exceptional quality, proactive health solutions.
To us, raw Manuka honey is one of New Zealand's very best offerings so we carefully harvest and package this golden goodness, from everyday manuka honey, to the ultra-potent in our colourful honey pots.
"Manuka honey is the distillation of nature. There aren't many products that 100% come from nature, and are so good for you, straight from the jar." – Scott Brundell, Co-Owner & Business Director, New Zealand Honey Co.
At New Zealand Honey Co., we're proud to be radically transparent. Straight from the source, our honey comes from hives throughout the wild, rugged landscapes of New Zealand. Our honey is traceable back to the hive, UMF™ certified and contains no GMOs, Glyphosate residue, antibiotics or additives.
We live by the principle that nature is best left untouched.
Where to buy:
You can purchase New Zealand Honey Co. – Raw Manuka Honey online at New Zealand Honey Co. – Raw Manuka Honey's website.
Important links:
For more information, visit https://newzealandhoneyco.com. Also be sure to check out New Zealand Honey Co. – Raw Manuka Honey's social media sites: Facebook, YouTube, Instagram, Twitter, Pinterest.
My New Zealand Honey Co. – Raw Manuka Honey Review:
The Everyday Honey – UMF™ 10+ Manuka Honey is a tasty natural supplement. We guarantee it to be pure, authentic and utterly delicious. If your family lives an active lifestyle, this honey is ideal for helping you to be ready for anything. We recommend UMF™ 10+ for kids, teens, young adults and families.
There are so many ways that you can enjoy our UMF™ 10+ Manuka Honey. It's great in beverages such as herbal drinks and smoothies, as a salad dressing or glaze, in marinades and BBQs, and so much more. It can be used to support minor cuts and abrasions, to help with acne breakouts, for face masks or even just eating a spoonful a day™.
Whether your teenagers are looking for a way to take care of their skin, or you're wanting a wellbeing boost the whole family can enjoy, UMF™ 10+ is an ideal activity amplifier to help you live your best life.
The flavor that was sent to me was – Manuka Honey UMF™ 10+ MGO 263+

I've never heard of or even tried Manuka Honey so I was a bit hesitant on trying it at first. But… once I got over that fear and tried it…. OMG… this honey is divine!!! I really like the flavor. At first I thought it was going to be super sweet for my tasting but it was actually quite pleasant! It tastes really good!! The honey had a very nice light flavor to it and the consistency of this honey was perfect…thick and creamy!
A couple ways that I've used this honey was I mixed with with some hot water, lemon juice and apple cider vinegar, it's awesome in herbal teas and it makes for a wonderful spread on some toast or even waffles. I've even taken it with just a spoonful by itself and let it dissolved in my mouth. I have yet to try it was a face mask or topical use such as putting it on cuts and abrasions. But I've heard wonderful things about using it for such things like that.
I love the fact that this honey is 100% natural with no extra added sugars or flavors. I love and is very happily surprised by the healing power that this honey has. It will definitely has you in "awe" and "wonder"!
Yes, this honey is a bit expensive for me, but with all the health benefits it has to offer, I would pay for it cause it's worth the price!
Have you tried any of these products from New Zealand Honey Co. – Raw Manuka Honey before? I'd love to hear your thoughts on them in the comments below!