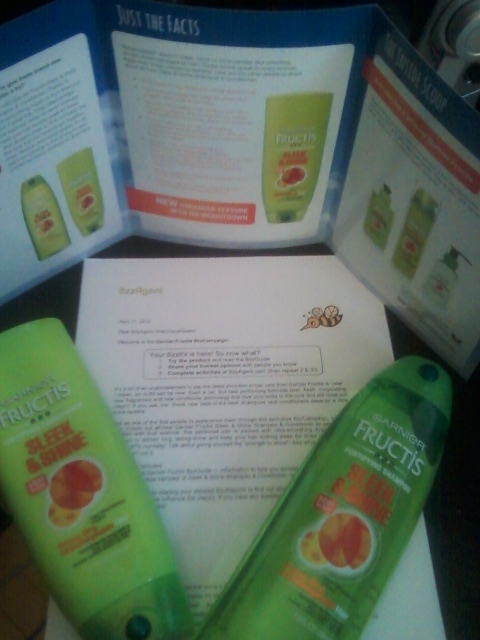 WooHoo, I joined another BzzCampaign on BzzAgent.com and got the products in the mail the other day!! This time its for the Garnier Fructis Sleek & Shine shampoo & conditioner.
In my BzzKit I got:
– One bottle of Garnier Fructis Sleek & Shine Fortifying Shampoo (13 FL OZ – Full Size)
– One bottle of Garnier Fructis Sleek & Shine Fortifying Conditioner (13 FL OZ – Full Size)
– BzzAgent welcome letter
– Official BzzGuide
My Garnier Fructis Sleek & Shine BzzAgent Review:
When I seen the package in my mail box I got really excited, I tried it out that night and wow what an amazing product. My hair came out so soft, shiny and smelling so good. I couldn't stop touching my hair. It even helped with my frizziness and not alot of products can do that. I'm very impressed. I love the smell of the shampoo and conditioner too.
A couple days later I thought I would try the Garnier Fructis shampoo and conditioner on my daughters hair. She has very coursed and dry hair and its very hard trying to find a product that will work for her hair type. Anyways, the outcome after using the product was AMAZING!!!! It helped with the dryness, the frizziness and made her hair super soft. She kept looking in the mirror and saying (while playing with her hair) "Wow, my hair is so soft and pretty." So that lets me know that she loved it as well.
Now lets gets some facts about Garnier Fructis Sleek & Shine Shampoo and Conditioner (from the BzzGuide):
– Work best on dry, frizzy and unmanageable hair
– Fight frizz and keep hair sleek for three days straight, even in 97% humidity
– Infused with Fortified Fruit Science and ultra-smoothing Argan oil from Morocco to deliver long-lasting shine and hair that's 10X smoother
– Packed with ultra-rich and smoothing conditioners that rinse clean
– Part of the #1 treatment brand in America
– Have a suggested retail price of $3.99-$6.99
– Available at grocery stores, drug stores, and mass retailers like Target and Walmart.