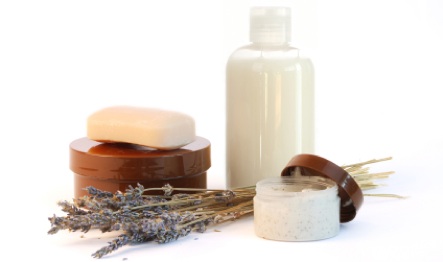 If you're tired of all the chemicals and synthetic fragrances in most store-bought creams and lotions, you might want to consider making your own.  Most people think that making creams and body lotions is difficult but it's actually fairly easy. I frequently make my own and give them as gifts to friends and family members who seem to love them.
If you can, I recommend that you keep an old blender, a small- to medium-size glass bowl, and a spatula that you use solely for making natural aromatherapy products. While you can use your kitchen blender the beeswax found in natural creams can leave a residue on the blender and utensils used.
Here's what you'll need:
3/4 cup of pure oil (I like sweet almond oil since it absorbs well and doesn't leave a greasy film.  It's available in most health food stores1 cup of pure water (or you can use rose water–available in health
food stores)
2 Tablespoons of shaved beeswax (most health food stores sell plain beeswax.  Be sure to avoid other types of wax since they are made of petroleum byproducts)
30 drops of essential oils (like lavender, ylang ylang, bergamot, or other oil.  Make sure you avoid "fragrance oil" since it is synthetic.  Lavender is a great one to start with since it is aromatic but also soothes sunburns, other types of burns, and is healing for most skin
types).
a glass jar or small glass jars for storing the lotion
How to make the lotion:
Pour the oil into a Pyrex measuring cup and add the shaved beeswax.  Set it in a saucepan of water that reaches about halfway up the side of the Pyrex container.  Heat over the stove until the beeswax dissolves and remove from the stove immediately.  Allow to cool for a minute or two but not longer than that since the beeswax will begin to harden.
Pour the water into your blender and begin blending it on high speed with the lid on (with a hole left in the lid for pouring the beeswax-oil mixture). Slowly pour the oil-beeswax mixture into the water.  It will begin to emulsify as you continue pouring the oil. It normally begins to thicken after about three-quarters of the oil has been incorporated. Continue adding the oil until you've incorporated all of it into the water.
Add the drops of essential oils you've selected. Blend them into the lotion.
Pour the lotion into the glass jars you've selected for storing the cream.  Use the spatula to remove any remaining lotion from the blender.
The lotion lasts for about 6 months and is best kept at cool temperatures to prolong shelf life.  You can store it in the fridge if you choose to keep it fresh.
That's it.  It's not as hard as you might think and your skin and the rest of your body will thank you for giving it healing natural lotion rather than the harsh chemicals that are found in most creams and lotions.
Enjoy!
http://www.care2.com/greenliving/make-your-own-natural-body-lotion.html